Our liner type Oil Filling and Packing Machine started since beginning, bottle unscrambler, bottle cleaning, product filling, bottle capping, labeling, till end of line wrapping, sealing, packaging. It's a fully automatic system only need a supervisor to watch complete line automatic working. Well saved client's labor cost and highly improved production efficiency. There are many models can fill various sizes of container from 50ml-5000ml, this models are able to handling various viscosity product from fluid to viscous product.From company established to today, The piston filling system has been serving for condiments, mayonnaise, sauce, fruit paste, mas, edible oil, lubricant, cosmetics, cream, honey, e-liquid, essentials, hand washer, shampoo and more industry.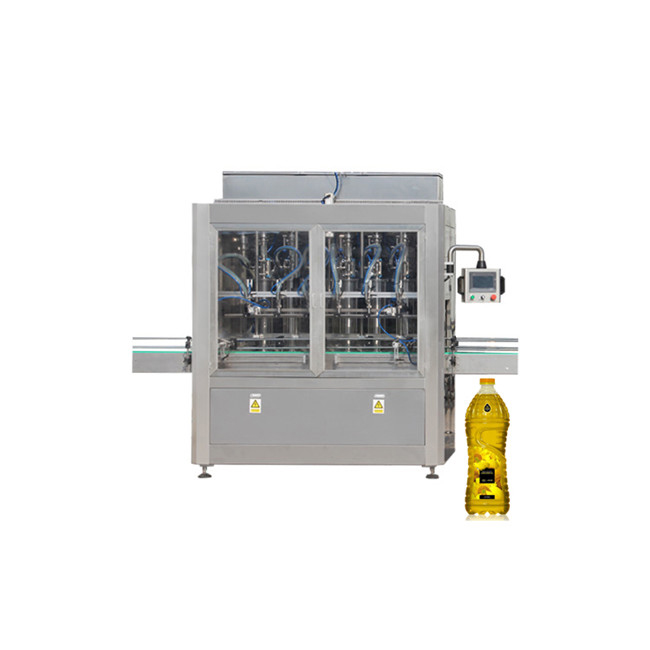 Features of Motor Oil Filling Machine
1) High quality pIston filling concept is applicable for low-high viscous product.
2) Servo motor control piston working to ensure the highly precised filling level.
3) All material is made of high quality stainless steel 304 or 316L, depending on client's product.
4) Fully automatic control system to save labor cost from long term prospect
5) Ezio's perfect installation service and after sale service making sure production fast setup and less downtime.
6) High intelligence HMI interface, operator can adjust fill level, fill speed and other functions directly throuh touch screen of auto oil filling machine.
7) Variable filling level to adapt to many size container, suffice cient's multiple needs.
8) Various filling applications, EFL filling machine for engine oil servces all kinds of industry including food, chemistry, cosmetic, medicine and more.
9) Can perfectly working with upstream and downstream equipments such as turnable, bottle unscrambler, depalletizer, bottle washing machine, inkjet printer, labeling machine, packaging machine, tunnel pasteurizer and more.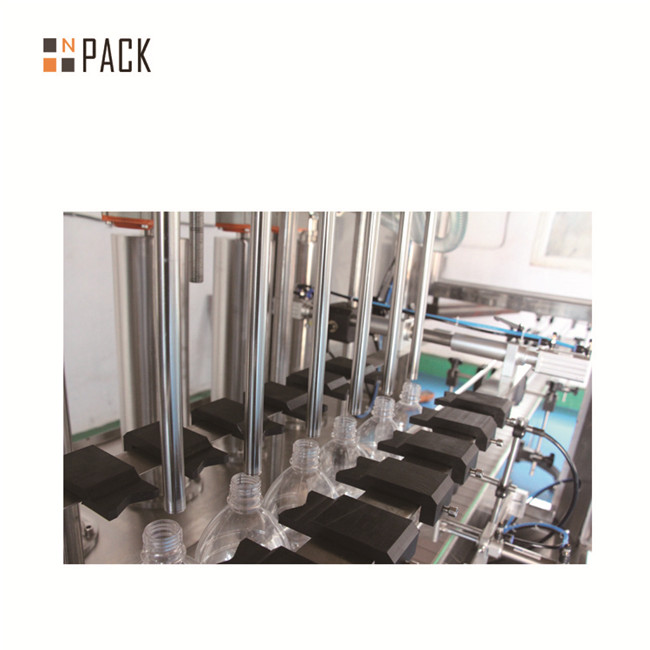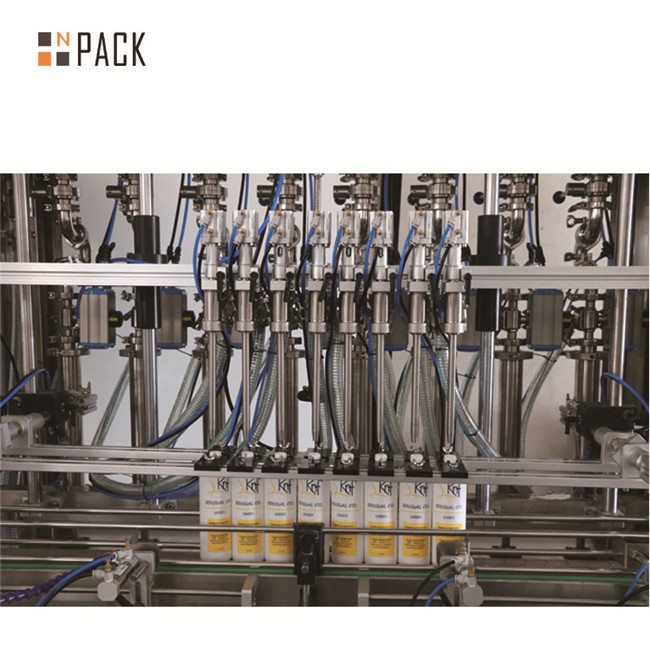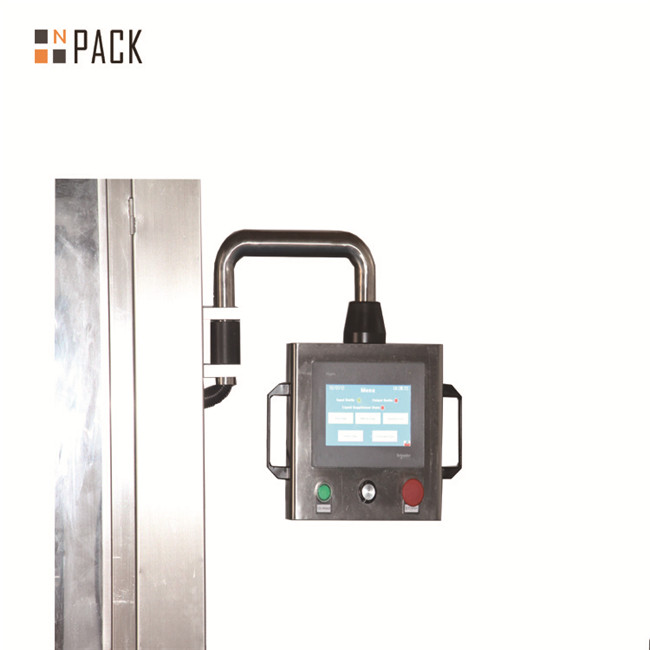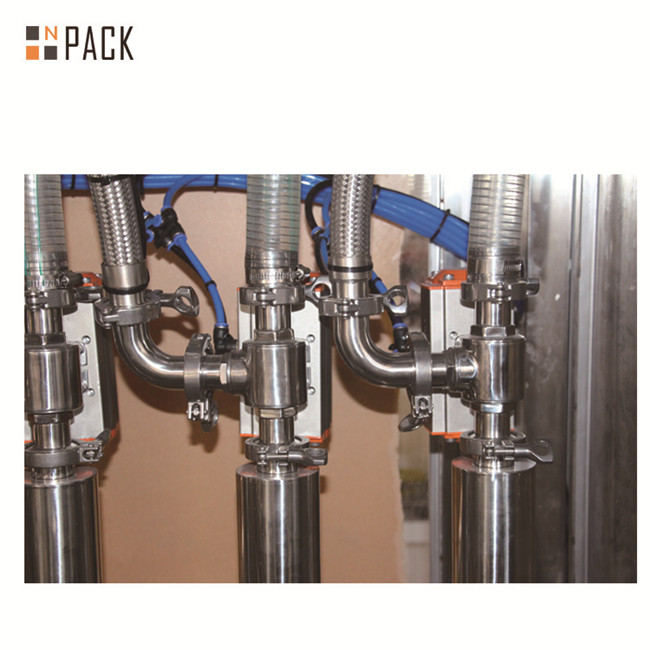 What determined the piston filling machine's capacity?
In general, number of filling nozzles is the key to determine the capacity of your filling machine, which has directly influence on filling capacity by hour in actual production.
Beside filling nozzles, the size of mouth of filling head is also a key to affect filling speed. And other details like bottle size, product viscosity, neck mouth, conveyor speed, etc.engineer will make all the details best before shipping to client's site.
What determined the piston filling machine's filling range?
The piston size and volume determine a piston filling machine's filling range.The bigger piston you build, the higher filling volume. But not means you could fill small volume bottle by a big volume piston. For example, a 5L volume piston only can fill 500ml-5000ml bottle, you couldn't make it to fill 100ml bottle as well. So before build the machine, engineer must confirm all the requirment with client to avoid future's trouble.
Detailed Technology
Non-dripping filling nozzles
This work aimed to invent a liquid filling valve that does not drip after closing. Breaking the traditional design concept, the filling valve was designed to be composed of two cavities, the filling cavity and the negative suction cavity, and the negative suction cavity was within the filling cavity.
Highly precised piston pump
The machine works by one principle; The piston is drawn back in its cylinder so that the product is sucked into the cylinder. A rotary valve then changes position so that the product is then pushed out of the nozzle instead of back into the hopper. The volume of the product that is sucked into the cylinder is the precise volume that will be dispensed into the container. All these procedure is highly controlled by servo motor to assure 100% working stability.
Servo motor driving assurance
All the piston pump is drived by servo motor and controlled by electronic impulse technology. Client only need to set right filling level in the touch screen, the program will input matched impulse to servo motor, servo motor will be working as received impluse and no mistake.This technology well improved filling accuracy for Ezio's piston filling machine.
Reliable pneumatic valve
Control signal to the solenoid valve an instruction, solenoid valve open, compressed air into the air chamber, pneumatic valve to drive the valve membrane, and then push the stem, the stem to open or close the valve heart! start or finish pumping. The pneumatic control valve is composed of an actuating mechanism and an adjusting mechanism. The actuating mechanism is a thrust component of the regulating valve, which generates the corresponding thrust according to the pressure of the control signal.
Temperature preserve during filling(option)
Some product is very senstive to temperature changing, in order to minimize the affect for product during entire filling process, we will make all pipes and piston pumps insulation with outside.For this special process client should let Ezio's engineer know the product's character before build machine.
Bottom up filling for highly viscous product
Some product has high viscosity, it's hard to achieve right dispension for filling nozzles.Product will be messy in the bottle because it couldn't be dispensed spread. So Eziomachinery will make filling heads filling from bottom to up. With the action of whole filling head and partented valve opener design to achieve high quality filling.
Engine Oil Filling Machine
,
Lubricant Filling Machine
,
Motor Oil Filling Machine
,
Piston Filling Machine