Introduction
This automatic bottled engine lubricant lube soybean palm edible oil filling machine is specially made for all kinds of viscosity and semi liquid materials, such as detergent ,liquid soap ,dishwasher and the viscosity oil and sauce. All the contacted part with the filling material is high quality stainless steel.
The machine adopts piston pump for filling. By adjusting the position pump, it can fill all of the bottles in one filling machine, with quick speed and high precision.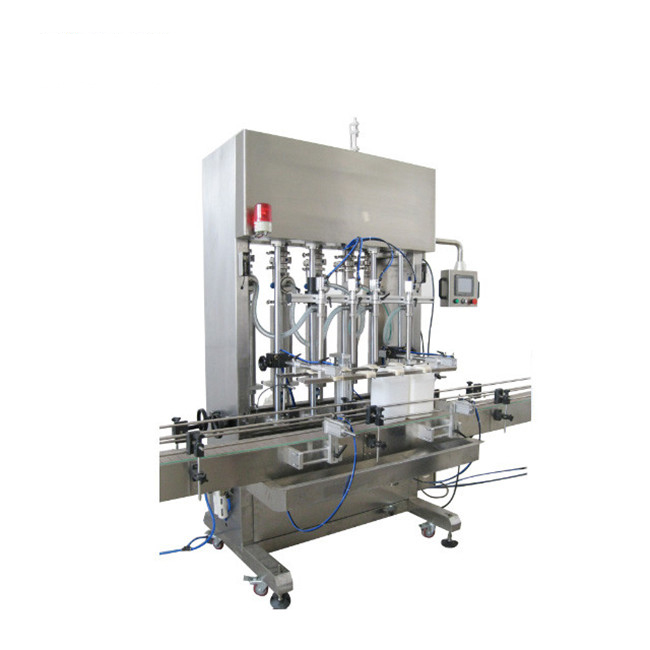 Name

Automatic Edible Oil Filling Machine

Filling volume

Filling speed

500-12500 bottles per hour even more

Filling material

Oil paste cream shampoo lotion and so on

The machine can be customizable design by your need, pls contact me!
Main Features
1.Use automatic volumetric piston pump executive filling ,it is applicable for various viscosity liquid ,high precision; fast disassembly institutions of pump ,easy to clean and disinfect.
2. PLC control system,frequency control,high degree of automation.
3.No bottles not filling automatic counting functions.
4.Filling capacity is easy to adjust ,all metering pump filling quantity can be adjusted one time , can also be aimed at each pump on micro-measurement adjustment .Simple operation and quick adjustment.
5.Filling head equipped with pneumatic drip tight device.
6.The machine can be used for various specifications of bottles, adjust the simple, can be finished in a short time.
Name:  Cursor sensor
Brand: MIC
Original: Germany
Function: 
Through the microcomputer record input and output, accurate control of each filling nozzle opening time.
Name: Piston Filling nozzle
Brand:  MIC
Original: European update
Function:
Guide the filling material output,if necessary can increase the filling nozzle number to meet production capacity requirement.
Name: Piston Cylinder
Brand: MIC
Original: European update
Function:
According to the customer production capacity requirements, the piston cylinder volume could be 0.5-5 liter even bigger.

FAQ
<1> What should I do if we are not able to operate the machine when we receive it?
Operation manual and video demonstration sent along with the machine to give instructions. Besides, we have professional after-sale group to customer's site to solve any problems.
<2> How could I get the spares on machines?
We will send extra sets of spares and accessories (such as sensors, heating bars, gaskets, O rings, coding letters). Non-artificial damaged spares will be sent freely and shipping free during 1 year's warranty.
<3> How can I ensure that I get high-quality machine?
As a manufacturer, we have a strict supervision and control of every manufacturing step from raw materials purchasing, brands choosing to parts processing, assembling and testing.
Edible Oil Bottle Filling Machine
,
Engine Oil Filling Machine
,
Lube Filling Machine
,
Lubricant Filling Machine
,
Palm Oil Filling Machine