Plastic bottle lubricants motor oil filling machine
Equipment list:
| | | | |
| --- | --- | --- | --- |
| Items | Name of machine | Size(mm) | Qty. |
| 1 | 10 head washing machine | 1400*800*1700 | 1set |
| 1.1 | 8 head linear piston filler | 2000*800*2200 | 1set |
| 1.1.1 | Screw pump | / | 1set |
| 1.1.2 | High position tank | ∮700*2500 | 1set |
| 1.2 | 6 head cans capper machine | 1100*900*1800 | 1 set |
| 1.3 | Belt conveyo | / | 5m |
1, Washer machine:
Parameters:
Rising heads: 10 pcs
Power: 1.5KW
Dimension:1400*800*1700mm
Weight: 800KG
Principle:
This washer is developed on the basis of digesting and absorbing advanced technology introducing from abroad and is with international advanced level. It is mainly used for rising for 1st hand PET or glass bottles. It is advanced in construction, steadily in performance, safe in operation , easy in maintenance high in production efficiency, and the speed can be regulated infinitively. The rinser is the ideal choice for drink factories of small and middle size.
The bottles will be taken into rinser by conveyor, the dia plate will turn each bottle to be caught by spring clamp, with driven energy of motor, the spring clamps will go forward a circle along main axis, the bottles will be reversed 180°,bottle mouths will be facing to floor, and at the meantime, spray air value will be open and clean pressure air will spray inside bottles, with the air fall down, dirty inside bottles will be taken away. Then the cleaned bottle will be turned 180°again and sent into next machine station.
The whole machine is made of SUS304. The spring clamp is by Italian design, can be slightly adjustable according to bottle neck size difference and can protect bottle neck. And air spray system is from American, make sure spray averagely. Easy for clean and maintenance.
Characters:
1, It can be applied for different type of bottles, glass bottle, PET bottle;
2, It can be used for different volume of bottles, only adjusting needed if bottle diameters are same; Small change parts will be needed with easy change if different diameter bottles will be applied;
Filler machine
Parameters

Filling range: 10-600g
Capacity: 40-80BPM (250g)
Air compression: 0.55-0.65 Mpa 0.2 M3/min
Dimension: 2000*800*2300mm
Weight: 950kg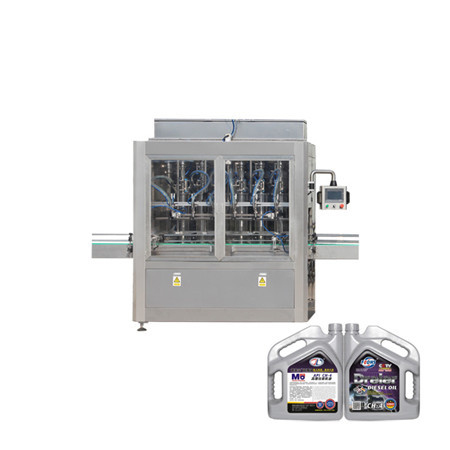 The feature:
The machine is suitable for all kinds of liquid, is use pneumatic plunger to increase pressure. Approach swtich control plunger process to make sure filling correctness. It is widely used for sticky liquid filling.
Applying with linear bottle in style, it is suitable for different bottle shape and size including alien shape bottles.

Principle of work is:
Makes the reciprocal motion through in the air cylinder around movement impetus material cylinder piston, Thus causes the material cylinder front cavity to have the negative pressure.
When air cylinder forward movement, Draws the piston backward, The material cylinder front cavity has the negative pressure. Is pressed in for the feeding trough in material by the atmospheric pressure the inlet pipe, Enters the material tube through the turnover material cone-way valve.
When air cylinder backward movement,Impels the piston to forward, Extrusion material. The material through leaves the material cone-way valve to enter the material hose, Finally through fills the pattern enters treats fills the spatial bottle (when feeding fills the pattern closure, Leaves when the material opens), Completes one time to fill the attire.
The plunger-type racking machine regarding each time fills the attire is a mechanical sole simple movement, Therefore all has to each regular vessel very high fills installs the precision and the stability.
Advanced design:
1, East for changing bottles within minutes;
2, Pneumatic plunger is the heart of the machine, is with special design, it can do correct filling and it is easy for cleaning;
3, Strong point of the machine is the machine can fill sticky liquid and also semi-liquid.
4, Control plunger process by hand wheel, every head filling qty can be made averagely;
5, Capacity is selective;
6, Filling times can change from once to 4th basing no part change;

Special filling method:
1, The filling volume is controlled by volume, is quite precision, when the container is arriving at the set position, the plunger will generate precision pressure;
2, When there is foam generate during filling, the filling method can be adjusted, the filling head can go into bottle bottom to fill;
3, The machine is set with automatic absorbing system, the extra liquid will be absorbed into filling head, no liquid will be outside of bottle and in filing machine;

Precise control:
1, Precision: ±0.5%
2, No bottle , no filling
Capper machine:
Parameters

Capping head: 6 pc
Power: 1.75KW
Dimension: 1100*900*1800mm
Weight: 1200KG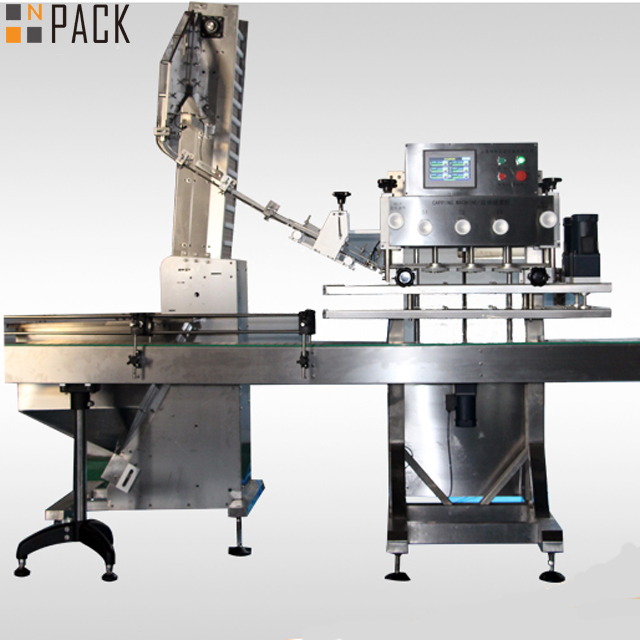 Principle:

The capping machine is used for capping for twist off caps, it includes auto cap loader and capping system 2 parts. Workers put bulk qty caps into cap loader, the cap loader will unscramble caps automatically and bring caps down in cap rail and then to capping head. Cap loader can hold more than 200pcs of caps each time, it will be convenient for adding caps often. When capping head catch cap, it will go down to bottle mouth and finish capping.
The capping head is by Italian magnetic technique, it will protect caps not to be destroyed. The capping correctness will be 99%. The opposite caps will be deleted automatically. The capping head is an separate part. The whole machine is made from SUS304, long shelf time.
Electrical Components:
No
Name
BRAND
QTY.
1
Labeling Motor
Delta-Taiwan
1pc
2
Motor driver
1pc
3
Bottle transferring motor
1pc
4
Motor driver
1pc
5
Conveyor motor
Delta-Taiwan
1pc
6
Conveyor motor gearbox
1pc
7
Bottle devision motor
1pc
8
Bottle devision motor gearbox
1pc
9
Bottle checking electric eye
Keyence-Japan
1pc
10
Labeling electric eye sensor
1pc
11
Label checking electrical eye
1pc
12
PLC
Delta-Taiwan
1pc
13
Touch screen
Delta-Taiwan
1pc
Our Service
1.Installation & adjustment (Motor oil filling machine)
After the equipment are arrived at the customer's site, the customer is responsible for unpacking and arranging the equipment according to the placement drawing; and does under our install-adjust technicians' guidance. Costs of the staff are decided at last.
2. Training
1) We are responsible for offering the technical training to user. The training content includes the structure and maintenance of the equipment, control and operation of the equipment. Through training, users' technical staff can grasp and the skill of operation and maintenance proficiently, and deal with the general troubles in time. We will appoint qualified technical staff for the guidance.
2) The buyer can send staff to our company for learning.
3. Quality assurance
1) We guarantee the goods offered are brand-new, not used, with latest design and suitable material made, and we guarantee the specification of the equipment is consonance with the contract.
2) We guarantee the line achieve product technical performance indicators within 5 days after feeding operation through the correct guidance of the installation and commissioning.
3) We are responsible for the fault and damage of the production line caused by our design, technology, manufacture, installation, adjustment and material defect etc. that all belong to our responsibility.
4) The warranty period is 12 months after acceptance check of the production line. If there is any different between the furnished equipment in the customer's factory and the equipment concerned in the contract, the users have the right to pass the inspection book to the legal department to claim for compensation to our company within goods warranty period.
4. Warranty
Offer 12 months maintenance period to the problem that caused by our design, manufacture and the material quality, and offer the relevant parts and effective service for free for above reason. We will offer a widely and favorable technical support, after service all the time after guarantee period.
Motor Oil Filling Machine