Cheap Filling Packing Jar Honey Bottling Machine
1. Automatic honey filling machine
NP-VF automatic honey filling machine is specially design for filling viscous honey into glass jars and pet bottles, it is also namely honey filler, honey jar packing machine. It is an ideal choice for honey bee factory.
2. Different types of NPACK automatic honey filling machine
There are many models and types of honey filling machine base on different capacity, the filling nozzles number are from one head to 16 heads, and the filling volume is from 5g to 20g, and 100g to 1000g and even 1000g to 5KG.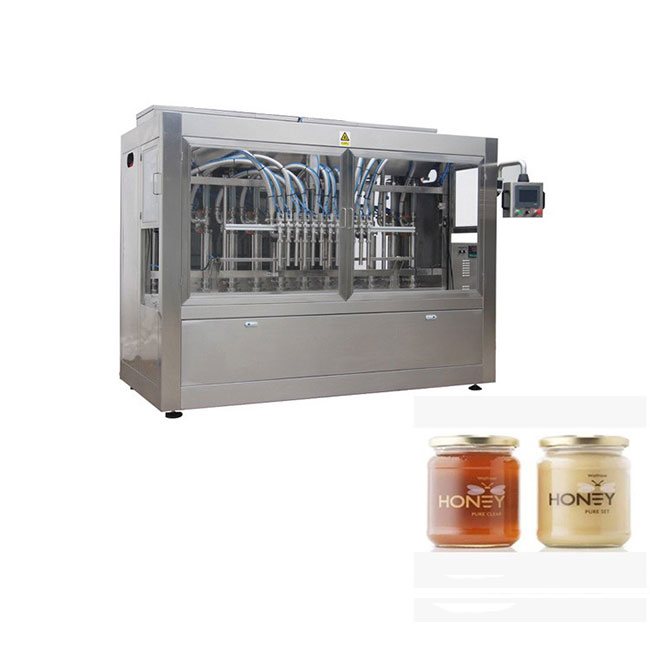 3. Main structure of honey filler
-20L to 200L Top hopper for option, double Jacket hopper with heating and mixing system for option,
-Main body of machine made by 304SS
-Filling nozzzles, filling nozzles are specially design for shut off and silk cut for honey
-Filling nozzles moving up and down by air cylinder, and servo motor moving up and down for option
-PLC control system, and HMI operation
-Specially made horse and valve for honey, with CIP system connect horse.
4. competitive Advantage of automatic honey filler
There are many advantages of the automatic honey filling machine
-PLC control, operation on touch screen.
-Panasonic servo motor driven , automatic adjust the Filling size on HMI, eg. Users wantTo fill 500g honey,
users just input the number 500, then the machine will automatic adjust
-it is volumetric by piston, high filling accuracy
-With top Double jacketed heating and mixing tanks which will prevent the honey crystallization afterstop working one day or more days. Also piston and hose can be heating.
-The automatic honey filling machine also can has the function by CIP system which will connect the users CIP system
-The horse of the honey filler are specially made according to the honey nature, no dead corner, food grade
-The soft tubes or pipes on the honey filler are adapt world brand Toyox from japan
-Specially made rotary valve for viscous honey transfer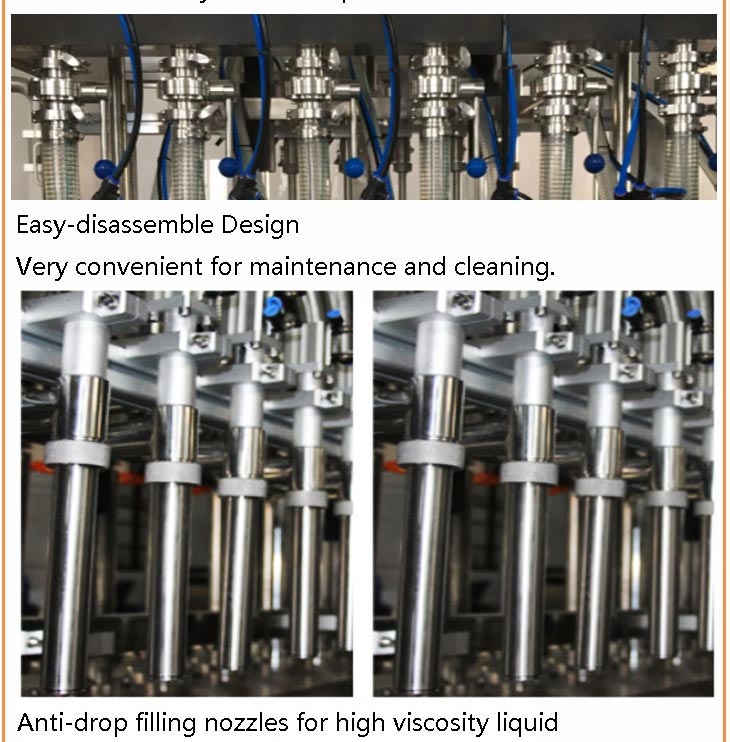 5. Main technical
| | |
| --- | --- |
| Filling Nozzles | 1-16Nozzles |
| Production Capacity | 800 -5000Bottles Per Hour |
| Filling Volume | 100-500ml,100ml tp 1000ml |
| Power | 2000W, 220VAC |
| Accuracy | ±0.1% |
| Driven | Panasonic Servo Motor |
| Inerface | Schneider Touch Screen |

6. Automatic honey Filling Machine Main features
a) Products to Fill:
1) hot fill ( 35 ~ 40℃) , cold filling normal temperature
2) Specific Gravity: 1.1 ~1.4 gr/cm3
3) Spreading Chocolate past • Honey • Spreading Cheese paste, Molasses.
b) Bottle type:
1) PET bottle • Quadrant Cross section • Volume 250 ml. • neck 32 mm.
2) Glass Jars & PE, PET Jars • Cylindrical Cross section • Volume 200 ~ 350 ml.
3) neck 45 mm.
c) Filling tolerances: +/- max 0.5%
honey Filling Machine basic composition
1.1 Bottles & Jars cleaning by air.
1.2 Automatic bottles feeding and holders (for plastic bottles if need)
1.3 No dripping.
1.4 Output 20 ~ 100 bpm.
1.5 No bottle No fill
1.3 Control panel with PLC touch screen. Malty filling programs saving.
1.4 Double jacketed Hopper with:
• 180 liters volume, • Level Detector. • Electric heaters.
• Product's temperature detector and control • Stirrer
1.5 Easy dissembling the filling system and nozzles for cleaning.
1.6 Machine's body of SS 304, all parts in contact with product is SSL 316.
Our Machine VS Other Suppliers
| | | |
| --- | --- | --- |
| Item | Our machine | Other suppliers |
| Top Tank | Double-jacket electrict heating tank | NO |
| Piston | With hot water cycling heating sytem | NO |
| Connect tube and hose | With hot water sycling heating system | NO |
| Filling nozzles | Shut off and anti-silk filling nozzles | NO |
| CIP sytem | Our machine can connect CIP system | NO |
Our Services
Installation and Debugging
-- We will send engineers to carry out installation and debugging of the equipment in buyer's place if requested.
-- The cost for International double ways air tickets, accommodations, food and transportations, medical shall be paid by Buyer for the engineers.
-- The normal debugging term is 3-7days, and the buyer should pay US$80/day per engineer.
-- If customer do not require above, then customer need to be train in our factory. Before installation, the customer need read the operation manual firstly. Meanwhile, w
e will offer an operation video to customer.
Training
-- We offer machines training system; the customer can choose training in our factory or in customer workshop. The normal training days are 1-2 days.
Warranty
-- The sold machine will be guarantee in one year.
-- In the guarantee year, any spare parts broken due to supplier's quality issue the spare parts will be supplied free for customer, customer need to pay the freight cost if the parcel weight more than 500gram.
-- The easy wearing out spare parts are not in the warranty terms, such as O rings, belts which will be supplied with the machine for one year using.
Honey Filling Machine