Automatic Soft Skin Ointment / Shaving Cream Tubes Filling and Sealing Machine
Automatic Tube Filling & Sealing Machine are smoothness of operation, easy cleaning, easy size change over and simple maintenance procedures. These combined with wearing property and the highest safety guarantee make this an excellent machine.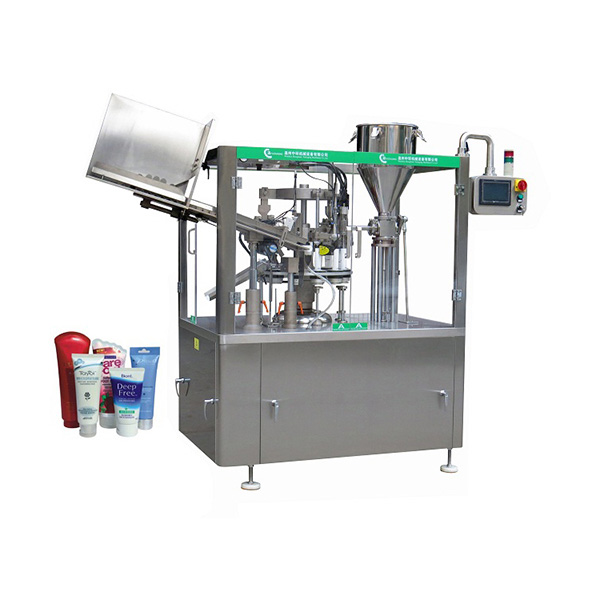 This machine is high-speed machine, and suitable to filling multi-typed materials as well. For those materials uneasy to filling, for example, food in large tube, ointment in small tube, this machine can provide satisfied quality of filling and sealingtubes.
Technical Parameters:
Parameters
Number Reference
Item
Plastic Tube
Metal Tube
Sealing Type
Heating Sealing
Fold Sealing
Max Power
4KW
3.3KW
Voltage
380V 50Hz
Productivity
120-150pcs/min
Filling Volume
5-250g (change pump)
Tube Diameter
10-50mm (change molds)
Air Consumption
20m3/h
Air Pressure
0.6-0.8Mpa
Dimension (L*W*H)
3147*1555*2267mm
Weight
About 3820KG

After-Sales Service:
After sales service, our engineer is available to supply door to door service for our customers and also they will tell our customer how to operate the machine. And also all of our engineer is ready for the service of the customer for 24 hours per day. We have sufficient spare parts stock and can meet your needs in time.
FAQ
Q: We are worrying about the high viscosity of the filling paste which cause poor fluidity.
A: We are heated stirring, which can enhance the fluidity of the paste, easy to fill.
Q: The span of filling is large.
A: If the span of filling is large, you can change the mold.
Q: What is the folding method of aluminum tube?
A: There are four folding methods for your choice: Double Fold, Triple Fold, Four Fold, Five Fold.
Q: Is there any tube alignment problems when sealing?
A: We use the cursor detection technique, which allows the position accurately when sealing.
Q: Can the filling capacity of 2 to 250ml be realized by one machine?
A: Yes, you just need to change the filling pump.
Q: The flow of our product is not very good, can you do it?
A: Yes. We can order a double heated stirring hopper for you.
Q: If the product is not liquid, can the machine be filled?
A: Yes, we can customize the double-layer heating hopper.
Q: How to clean the machine?
A: The hopper and filling head can be disassembled for easy cleaning.
Q: Is it possible to do it on a machine with different tubes?
A: The length of the tube can be adjusted. If the diameter is different, you need to replace a set of molds.
Q: Can the machine be pumped with nitrogen and vacuum?
A: Nitrogen, vacuum device can be added. Nitrogen device is added before filling, vacuum device is added after filling.
Q: What is the difference between dichromatism toothpaste machine and three-colour toothpaste machine?
A: The three-colour toothpaste machine has one more compartment in the hopper than dichromatism toothpaste machine.
Q: Is the machine sealing by ultrasonic or heated?
A: Heat sealing. If it is an aluminum tube, it is a folded sealing.
Q: Do we need a water cooler unit?
A: Internal heating should be equipped with water coolers, you can purchase by yourself, or using circulating water.
Q: If we not add a water cooler unit, do it have a good effect?
A: The effect is certainly not as good as add a water cooler unit.
Q: How many sets of heads does the machine have?
A: The machine comes with a set of molds.
Q: How many years have you been working on this machine? Have you ever exported it before?
A: We have been doing this for 10 years, exported to many countries, worked with many companies at home and abroad.