It will auto. feed tubes into mould base, then orientate, check, feed, seal, emboss and cut or fold and emboss, then output
Purpose Cosmetic Tube Filing Machine
This machine is suitable for operating filling, sealing a quantity of viscosity of oil, cream and gel etc ointment.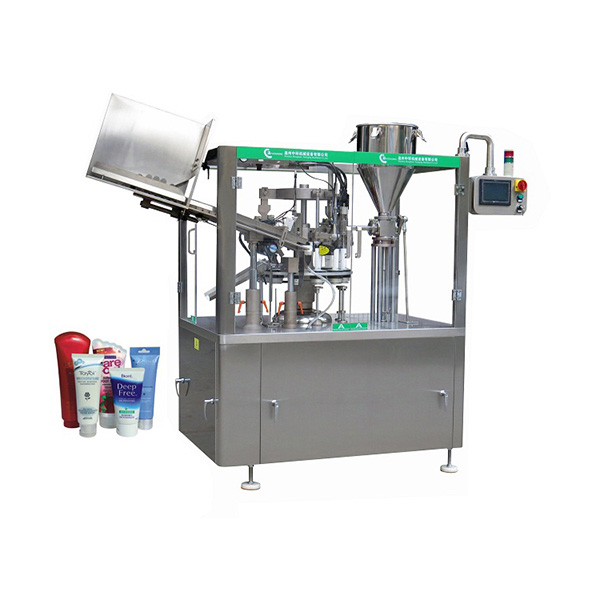 Main Technical Parameter:
1. Touching-Screen
2. PLC program control panel with LCD.
3. Capsule vacuum positioned mechanism to make the capsule qualified over 99%.
4. Removable powder hopper for cleaning
5. Easy auger adjustment easy to change fills weights.
6. Easy speed selection
7. Closed capsule length adjustment.
8. Electrical Appliance control system approved to CE, and international standard.
9. Quick and accurate change part set-up,
10. Easy to remove rotary table and ring carrier assembly.
11. Fully enclosed dosing stations
12. Rotating table for integration of the whole capsule filling plants.
13. Large cam mechanism keeps the rotating table of mould together with the whole equipment running with balance, and completely guarantees the machine operating with highest precision and accuracy.
| | | |
| --- | --- | --- |
| Tube material | Metal tube, ALU tube | Plastic tube, Multiple tube |
| Tube diameter | 10-42mm | 10-60mm |
| Tube length | 50-250(customizable) | 50-250(customizable) |
| Filling volume | 5-500ml/tube(adjustable) | 5-800ml/tube(adjustable) |
| Filling accuracy | ≤±1% | ≤±1% |
| Product capacity(pc/h) | 30-60pc/min | 30-60pc/min |
| Working pressure | 0.55-0.65mpa | 0.55-0.65mpa |
Working principle
Cosmetic Tube Filing Machine is designed for ALU tube, plastic tube and multiple tube filling and sealing in cosmetic, pharmacy, foodstuff, adhesives etc industries. It's operating principle is to put the pipes which is in the feeder hopper into the first service position filling model individually, to invert with rotating disk, to test nomenclature plate in pipe when inverting to the second , to fill with nitrogen gas into pipe in the third, to fill with desired substance in the fourth, then to fix the heating, folding, jamming, number printing, cooling, slivers trimming etc service position, to export the finished products when inverting to the last service position so the twelfth. Every pipe should take such series process to filling, sealing to completion.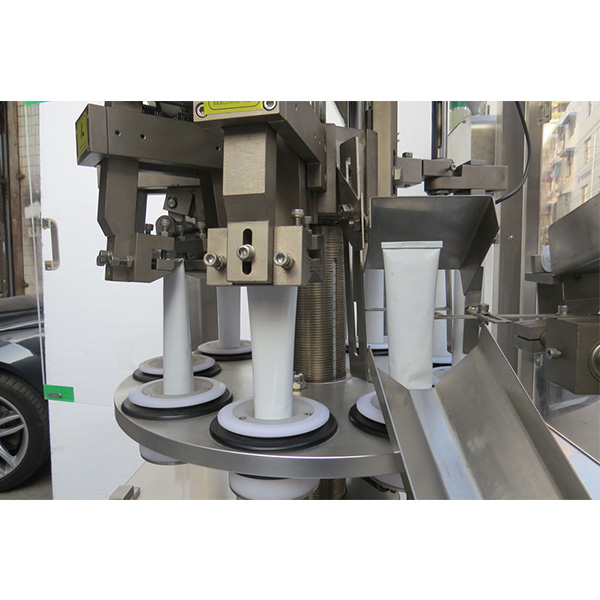 Capability and features
Accuracy filling, balanced action, low buzz.
1. Automatically finished overall process as tube supply, photoelectron register, inert gases filling (optional), material filling and sealing, batch number printing, finished products output.
2. Adjust position outlay and position numbers video picture, quickly and accurately adjustment ( suitable for varies specification and varies product producing )
3. Mechanical, photoelectron, electric, pneumatic intergrative controlling, reaches no tube no filling function; warning if tube error positioned or pressure too low, automatic stop machine if open the protective door.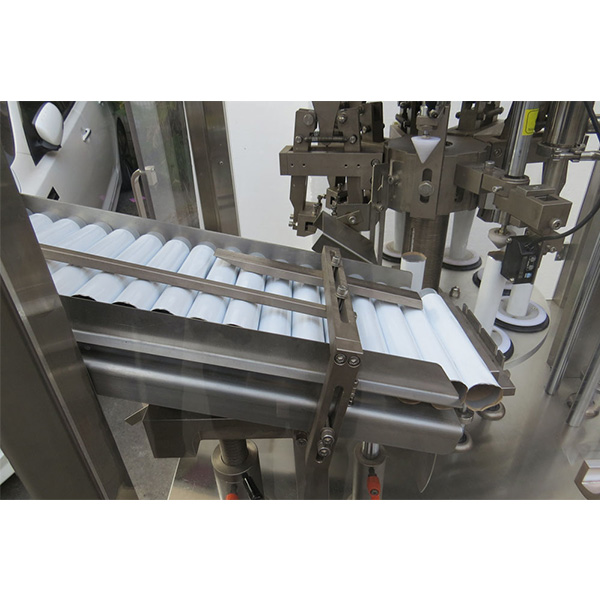 Reliability
1. The part contact direct with ointment adopts 304L or 316L stainless steel. It use materials that is non-poisonous, no reaction with drug, non-corroding, no absorption from drug.
2. Inner workshop should smears anti rust coat that withstand weak acid and weak base besides adopts austenite stainless steel. The parts with chemical treatment should have no rusteaten and no exfoliation.
3. External surface should adopts austenite stainless steel wiredrawing board or sub-light treatment.
4. Semi-closed outline board visible window adopts bright, staticfree material as closed retaining band.
Table-board adoptsnodular graphite foundry iron. It takes stress