The main features of our newly developed fully automatic and intelligent in-line liquid filling machine are: stainless steel design, mechanical transmission, frequency conversion speed regulation, pneumatic positioning, photoelectric detection, programmable control by micro-computer (PLC), high-tech products integrating light, electricity, machinery and gas. This machine is suitable for liquor and grape. The filling of liquor, soy sauce, vinegar, vegetable oil, syrup, tomato sauce, chemical washing liquid, mineral water and pesticide chemical liquids. Accurate measurement, no bubbles, no drip and leakage. Suitable for 25-1000ml bottles, including special-shaped bottles. The number of filling heads can be added according to the needs of users.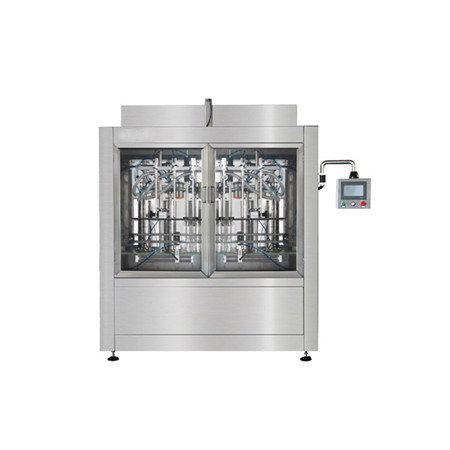 Use, Maintenance and Installation
1. Because this filling machine is an automatic machine, the size of easy-to-pull bottles, bottle pads and bottle caps should be unified.
2. Before driving, the machine must be rotated with a rocking handle to see if there is any abnormality in its rotation. It is sure that it is normal before driving.
3. When adjusting the machine, the tools should be used appropriately. It is strictly forbidden to use too large tools or use too much force to disassemble parts so as to avoid damaging the machine parts or affecting the performance of the machine.
4. Whenever the machine is adjusted, it is necessary to tighten the loosened screw properly and turn the machine with a rocking handle to see if its action meets the requirements before driving.
5. Machines must be kept clean. Oil stain, liquid medicine or glass debris on machines must be strictly prohibited in order to avoid machine erosion. Therefore, it is necessary to:
(1) In the process of production, the machine should remove liquid medicine or glass debris in time.
(2) Clean all parts of the machine surface and add clean lubricating oil to the moving parts before turning over.
(3) Large scrubbing should be done once a week, especially to clean areas which are not easy to clean in ordinary use or to blow with compressed air.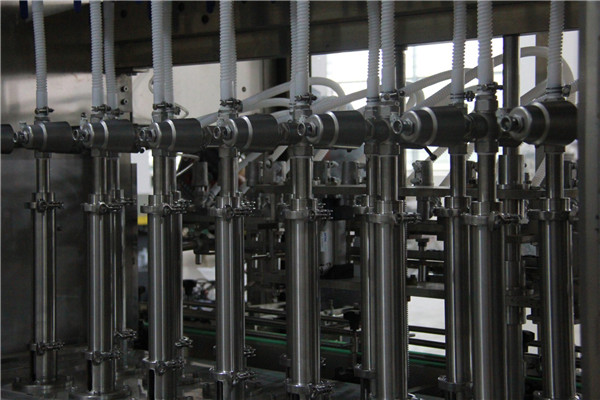 Specification
| | |
| --- | --- |
| Product name | 6 heads kechup filling machine |
| Filling range | 500ml-5000ml |
| Fillers | 6 heads |
| Suitable bottle height | 280-450mm |
| Suitable bottle diameter | 120-250mm |
| Working pressure | 0.55Mpa-0.65Mpa |
| Filling accuracy | ≤±0.5 |
| Machine total power | 4KW |
| Machine weight | 800kg |
| Machine voltage | 220V/380V |
Our factory has strong technical force and advanced production equipment. The main products are: liquor filling machine, wine filling machine, edible oil filling machine, soy sauce filling machine, perfume filling machine, condiment filling machine, soy sauce filling machine, vinegar filling machine, high precision filling machine, lubricating oil filling machine, syrup filling machine, honey filling machine, fruit filling machine. Juice filling machine, beverage filling machine, fruit and wine filling machine, automatic filling production line, automatic small packaging filling line, large and medium barrel weighing filling machine and sealing machine, bottle punching machine, bottle brushing machine, glass recycling bottle unlabeling machine, conveyor line and drying equipment, labeling machine, sealing machine and other supporting liquid packaging production line, can be used as a line. It can also be used on a single machine. The liquor filling production line produced by our factory can be used for various special-shaped bottles. It has the advantages of accurate quantification, simple operation and low price. It is suitable for large, medium and small enterprises.
At the same time, our factory can design, develop and improve various packaging machinery according to the needs of users. Mainly follow-up service to ensure the interests of customers, for many years.
Disinfection and washing
1. Loosen the upper and lower fastening screw, remove the injection system for overall disinfection, or dismantle for disinfection and cleaning respectively.
2. Put the inlet pipe in the cleaning liquid and start cleaning.
3. There may be errors in the actual filling of 500 ml model, and the amount of cylinder should be accurate before the formal filling.
4. Needle tube for filling machine, standard 5 ml or 10 ml syringe for type 10, 20 ml glass filler for type 20 and 100 ml glass filler for type 100.
Installation Notes
1. After the machine is unpacked, first check whether the random technical data are complete and whether the machine is damaged in transportation, so as to solve the problem in time.
2. Install and adjust the feeding and discharging components according to the outline of this specification.
3. New lubricants are added to each lubricating point.
4. Rotate the machine with a rocking handle to check whether the machine is running in the right direction (counter-clockwise to the motor spindle). The machine must be protected from earthing.