Automatic Liquid Bottle Filling machine
Automatic Liquid Bottle Filling machine is a most widely used machine in the pharmaceutical industry. The machine also finds application in Food, Chemical & allied industry. The monoblock design saves space since filling and Screw/ROPP capping modules are built on the same base and the common drive for filling & sealing modules. The filling principle is volumetric, positive displacement of product with piston & cylinder arrangements. Another highlight of this Rotary filler is all the pistons can be set for different volumes by setting the twin cams tracks. Finer volume adjustment of individual cylinders is also built on the cams track rollers.
The concept of Monoblock filling and sealing also ensures very high QMP standards, as the bottles are sealed immediately after filling. The rotary sealing module matched with filling and gives accurate sealing. The automatic cap feeder built on separate column prevent dust/cap particles falling into filled bottles. The Monoblock machine has built in feature for on line automation like sensors for bottles fall at infeed machine stops, extra bottle accumulation at out feed and for cap accumulation the feeder stop.
Specification
Model
1
2
3
Production Rate
Up to 30 Bottles/Minute
Up to 60 Bottles/Minute
Up to 100 Boottle/Minute
No. of Filling Heads
Two
Four
Eight
No. of Capping Heads
One
One
Four
Capping Type
ROPP/Screw
Input Specification § Container Diameter,Container Height
25mm to 90mm,36mm to 300mm
Filling Range
30 ml to 1000 ml with the help of suitable change parts.
Cap Diameter
20mm, 28mm, 30mm & 33mm with the help of change parts
Power Specification
2.5 H.P.
Electrical Characteristics
440 Volts, 3 Phase, 50 Hertz, 4 Wire System
Optional Accessories
Programmable Logic Control (System) with MMI
Aluminum Profile Cabinet covering full machine
Overall Dimension
2300mm (L) X 900mm (W) X 1680mm (H) approx.
2500mm (L) X 900mm (W) X 1680mm (H) approx.
3000mm (L) X 950mm (W) X 1680mm (H) approx.
Salient Features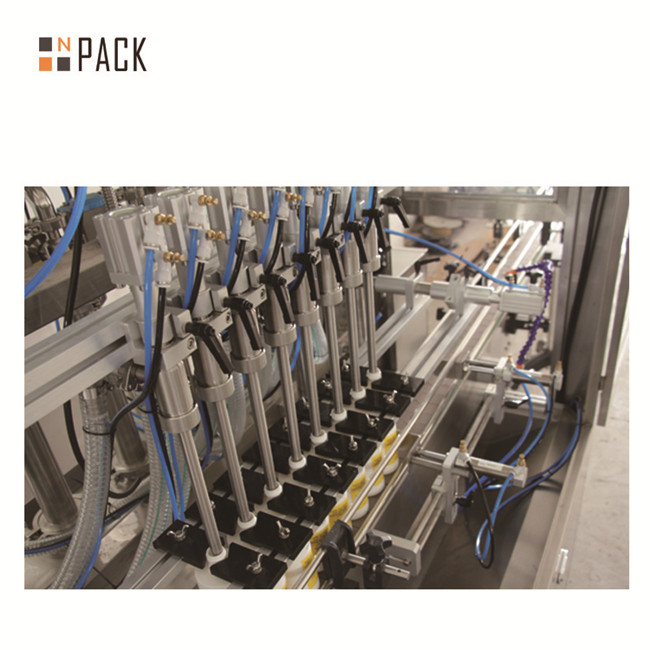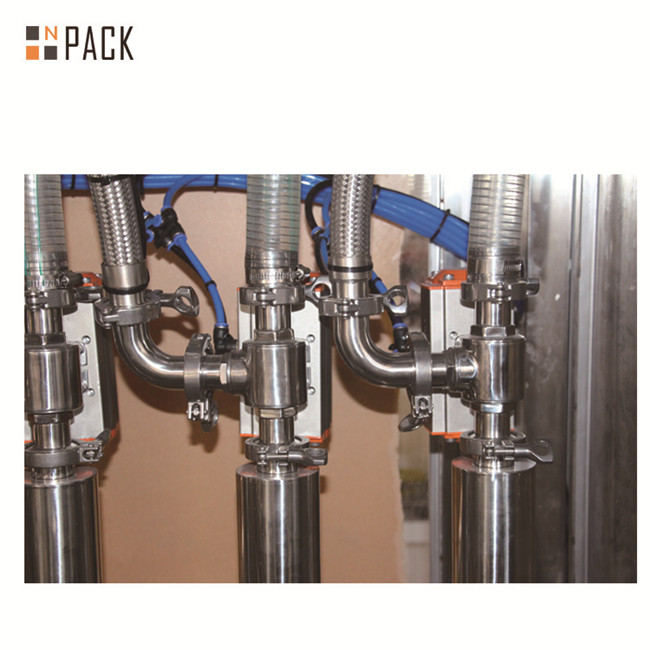 Compact GMP model.
"No Bottle - No Filling" system.
All contact parts made of AISI SS 316 material with easy removal system for easy cleaning.
Machine construction in AISI SS 304 material.
Infeed turn table for automatic feeding of bottles.
Diving Nozzle for Foam free filling.
Very High Fill Accuracy.
Automatic In-feed and Exit of Bottles.
Minimum Change Over time.
Variable AC frequency drive for speed adjustment.
Digital bottle counter for counting production output.
Process Operation
In-feed turn table deliver bottles one by one to the moving SS conveyor. Bottles come into the filling point through SS conveyor. Filling Nozzle fill pre set volume of liquid into the bottle. The hexagonal bolt dosing block allows using of different filling volume easily with minimum use of time.The main drive consists of a gearbox driven by A.C motor & through controlled by an AC Frequency drive. The speed can be set in terms of bottles per minute. The conveyor drive consists of a hallow shaft geared motor controlled by an AC frequency drive. A knob can set the speed of conveyor.
The filled bottles moving on conveyor belt and fed into an in-feed star wheel by in-feed worm.While moving in-feed star wheel, bottles pick up caps one by one from delivery chute. The descending rotary sealing head hold bottle's neck with desired pressure.The sealing is done in a programmed roll-on manner, accurate positioned of the caps is done mechanically by means of a rotating unscramble, to direct the caps correctly into the chute, when the chute is filled up the rotating unscramble drive is disengaged, hence, there is no chance to damage of caps.The sealing roller takes place due to rotating sealing head and transfer movement of sealing & threading rollers due to sealing cam. The sealed bottles are discharged by exist star wheel on conveyors.Duly filled & sealed bottles forward to labeling machine for further operations.