Easy cleaning essential oil peristaltic pump liquid filling machine for small vial bottle filling capping labeling machine for small business
This is complete line is including rotary table feeder, perispaltic filling machine, cap vibration bowl feeder, capping machine, planetary three point labeling machine for small vial bottle more accurate.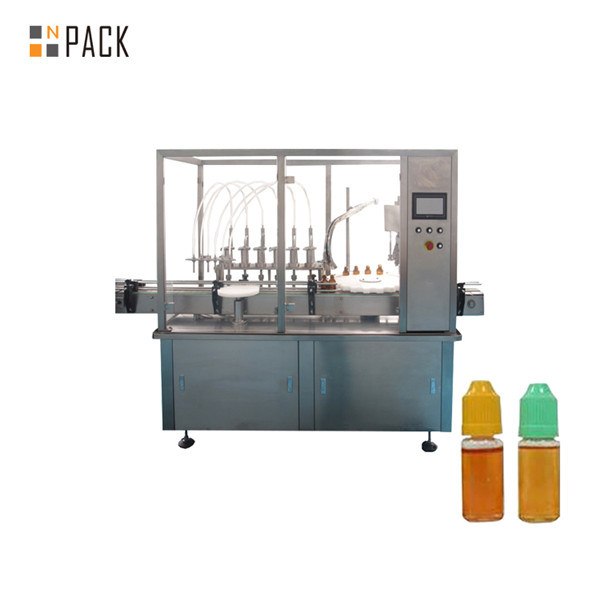 Bottle:
10ml/25ml/32ml essential oil glass bottle filling, capping and labeling
Cap:
The cap can be dripper cap with the dripper insert or'tamperevident'cap with a detachable ring around the bottom of the cap.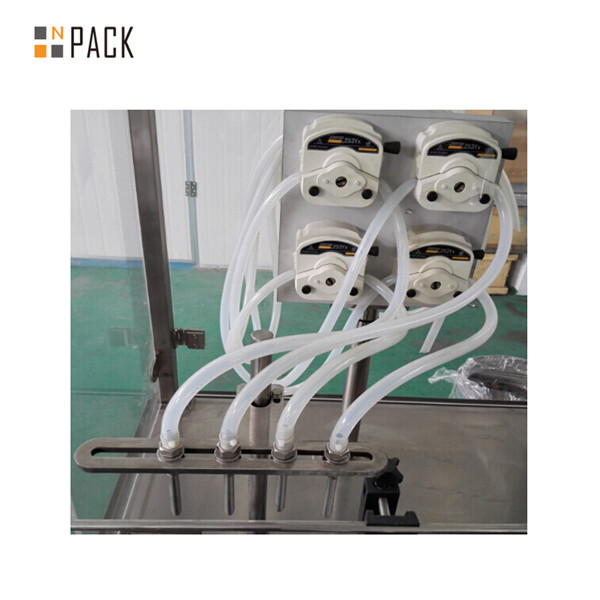 Filling Capping and Labeling Machine:
Capacity: about 60BPM
Working process: Bottle Unscrambling and feeding - automatic 4 heads filling – automatic cap unscrambling- 2heads putting the cap on bottle – automatic 2 caps capping – rotary fixed point labeling – collecting
Main machines
Filling Machine (2 lines, 4 heads filling) +Capping system (with cap vibration bowl +feeding on the cap + capping-2 caps capping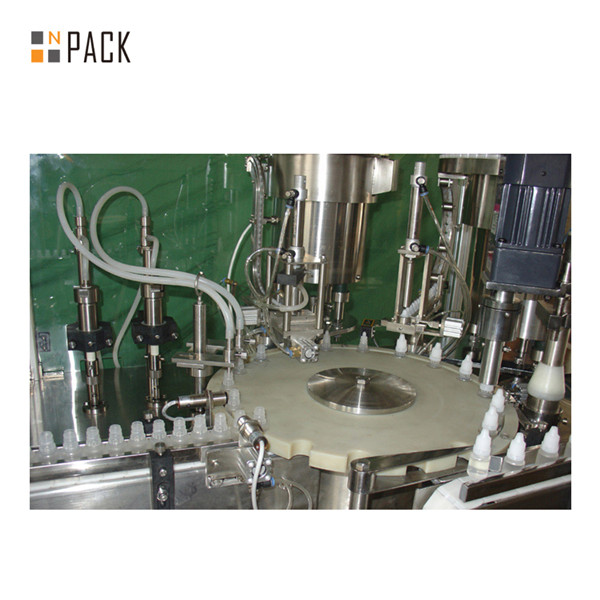 Features:
This machine is applied for 10-20ml round plastic bottle or glass bottle Electronic smoke, essential oil, eye drop liquid filling etc. in plastic or glass bottles. There is high accuracy cam mechanism to provide Graduated dial to locate the cap on, accelerating cam transmission capping head lifting; constant torsion capping, mechanical pump dosing and filling; touch screen control, no bottle no filling, no inside and outside cap, with advantage of stable transmission, accurate location, accurate dosing, convenient operation etc.
This filling system is widely used in food, chemical, beverage industries etc., suitable for small bottle filling and capping, made in SUS304 stainless steel and SUS316 anti-corrosion stainless steel for the part in contact with material, which is complied with GMP standard.
Specification:
Capacity: 40-60 bpm
Filling head: 4 heads
Filling range: 10-20ml
Filling accuracy:±1%~3%
Capping head: two
Capping rate: ≥98%(adjusted according to the cap feature)
Speed control: frequency speed adjustment
Power supply: single phase, 220V 50Hz
Power consumption: 1.8kw
Size: about 2500mm X 1300mm X 1800mm
Table diameter: 1000mm
Height: 860mm
Sides: 100mm high
Bottle diameter: 42mm to 75mm
Rotation Direction: clockwise
To be mounted on the side of existing conveyor. (not on the end of conveyor)
With 240v AC speed controller & 3 metre cable with 3 pin Australian plug top.
Adjustable bottle 'swipe' blade.