Features of automatic liquid bottle filling machine:
1) The mainframe running speed is stepless frequency conversion.
2) The product quantity can be controlled.
3) Multi-failure prompt function (such as infrabar, no filling and no inserting plug etc).
4) Automatic stop function, if there is no filling, no inner plug in any rail, it may stop automatically.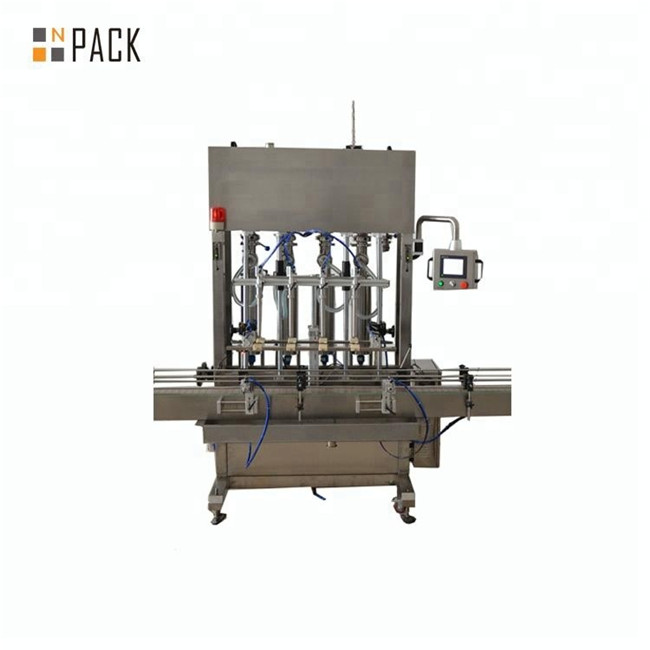 Description of automatic liquid bottle filling machine:
This machine is mainly available to fill your square bottle and round bottle.
The filling machine adopts double-headed 316L Stainless steel piston pumps quantitative filling . It is easy to clean. It is able to wear and tear. There is have O-ring and seal gasket in the pump, so there is no impurity, and do not pollute the liquid. Besides, the filling precision of this pump is high. And touch screen controls all action.
After filling into sucked inner plug, cover, by pneumatic control, robot- hand plugger,cover. Then into capping, this capping parts use the transverse torque and automatic slipping unit. So it does not hurt the cover. The bottles don't follow with the capping head, the turntable does not hurt the bottle, so the design protects the beautiful of the packaging material.
No bottle no filling and no capping. If there is no plug in the bottle, it must not cap until having been detected plug in the bottle. The machine enjoys high position accuracy, stable driving, precise dosage, and simple operation and also protects bottle caps
FAQ
Q1. What's your product range?
-Hot Coding Foil, Hot Stamping Foil, Hot Ink Roller, Thermal Thransfer Ribbon,
Coding and Sealing Machine and packing machine
Q2. What's the information should I let you know if I want to get a quotation?
-For the hot coding foil: The width, the length, the color, the quantity and the type.
-For the hot ink roller: The outer diameter, the height, the color, the quantity and your printing temperature.
-For the coding machine: The type and the quantity.
-For the sealing machine:The type and the quantity.
-The destination port.
-The shipping term: By sea, by air or by courier.
Q3. How to ensure that I received the machine undamaged?
-At first , our package is standard for shipping and before packing, we willconfirm product undamaged, otherwise, please contact within 2days.Because we've bought insurance for you, we or shipping company will be responsible!
Q4. How do you ship the products?
-By sea
-By air
-By courier, DHL, FEDEX, TNT, UPS, EMS. Ect.
Q5. Where will the orders be shipped from?
-It will ship from the main ports China,Shanghai,Shenzhen
Eye Drop Filling Machine