Automatic capping machine is flexible, durable and works with most containers and caps including flat caps, sport caps, metal lids and many others.The machine has practicability in field of pharmaceutical, pesticide, chemical, foodstuff etc. It is real ideal equipment for bottle screw capping, also applied to seal aluminum cap, the ft proof cap, screw-thread cap, ROPP cap etc. It's built on a heavy duty, tig welded, stainless steel frame with anodized aluminum plate construction to provide durability in almost any packaging environment. The modular design lets you start with just a cap tightener and easily add capabilities when you need them.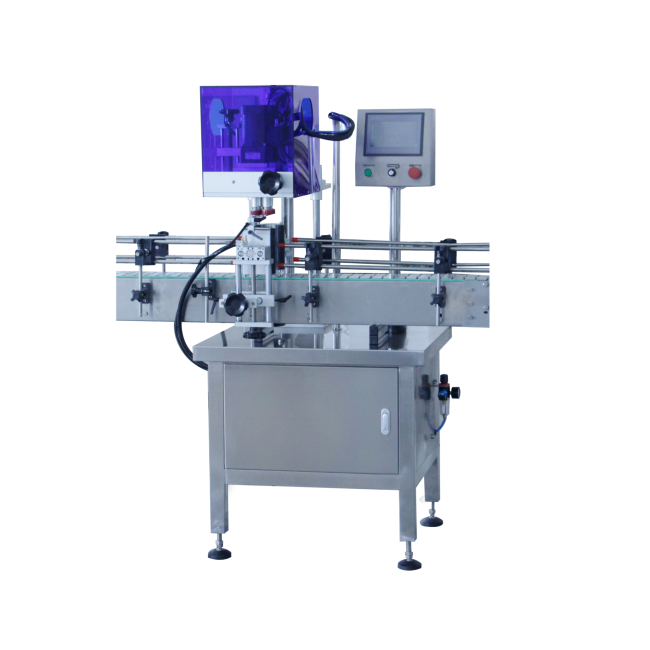 1.Power height adjustment
2.Comprehensive universal cap chute and escapement
3.Hand-wheel operated
4.Gripper Belt height and width adjustment
5.Variable speed AC motors 4, 6 or 8
6.Spindle Wheels Spindle Wheel adjustment knobs, with lock nut hand wheel
7.No change parts required for a wide range of containers
8.Sanitary 304 stainless steel drive shafts and adjustment support shafts
9.Timing belt power transmission for Spindle Wheels 10.Bottom screw changeover on Spindle Wheels 
11.1/2" aluminum mounting plates and 1/2" hard coat
12.anodized supports on Cap Feed Chute
13.Designed for easy integration with most conveyor configurations (sold separately )
14.Intrinsically Safe
15.Removable dual gripper belts
16.Trigger spray cap rails

1.Material preparation: Ready enough bottles, plug in, cover, and liquid medicine, plug and cover should be full of vibration hopper rail and is located in the inside and outside cover location
2.Feeder bottles: bottle feeder turntable make the bottles (optional)
3.Filling: Bottle by oscillation tidy up the bottle opener for positioning disk thick, by positioning disagainintermittent drive to filling, stoppering, cover, screw cap.
4.Plugging :Plug is provided by vibration hopper to stoppering station, bottle movement by wheel clearance to stoppering station,
5.Capping : Add good plug inside the bottle again by positioning disc sent to the affix, screw cap, affix a similar principle and urinating in principle, is done by the cylinder, covering various size by complete, constantly rotating screw LIDS below and overall do up and down,
6.Bottles out: Spin good cover bottle again by the bottle round to the conveyor beltpull pull final delivery outside the machine, and enter the next packaging process
 NO1

Automatic Capping machine

NO2

Cap Diameter

20-120MM

NO3

Bottle Height

45-460MM

N04

Speed

60-200BPM

N05

Voltage

220VAC

NO6

Power

1600W

NO7

Air Pressure

0.6MPA

NO8

Weight

500KG

NO9

Dimensions

1080*900*1700

NO10

Option

Cap Sorter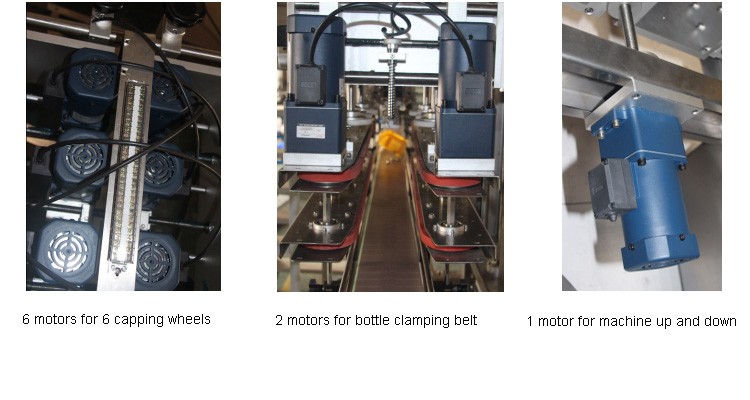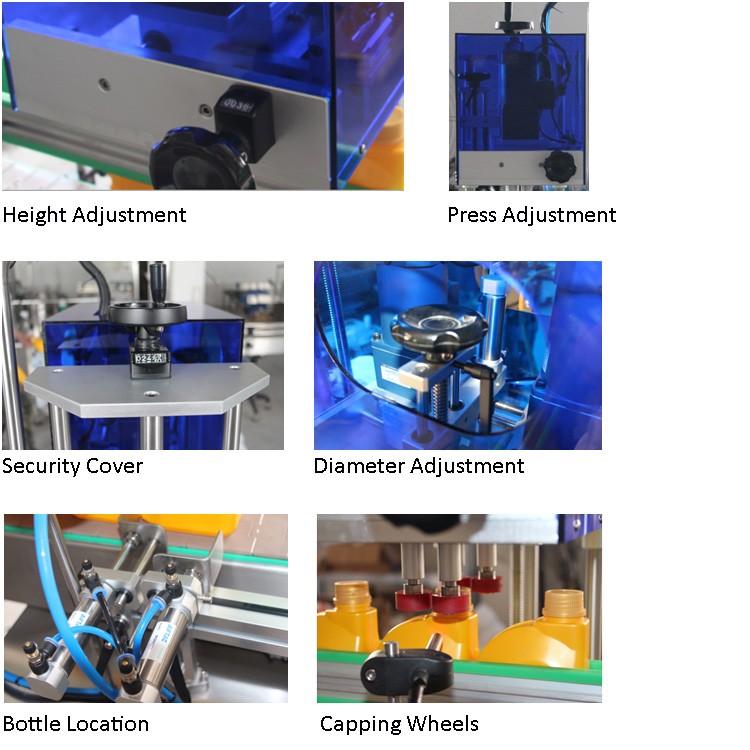 Leto Packaging has been focusing on the R&D, design and manufacturing of secondary packaging equipment in China for many years. Through continuous development we have forged a first-rate professional team with abundant experience and solid strengths, starving to capture the opportunities of the rapid development in the domestic packaging industry in the spirit of hard work and innovation. Our companies grow bigger and stronger with the driving force of the continuous development in the field of secondary packaging. At present, it has developed into a domestic manufacturer that covers the entire line of engineering and equipment manufacturing. At present, we have developed into a domestic manufacturer that covers whole line engineering and equipment manufacturing.

Main product categories:
Filling machine,capping machine,labeling machine,unpackaging machine,packaging and palletizer.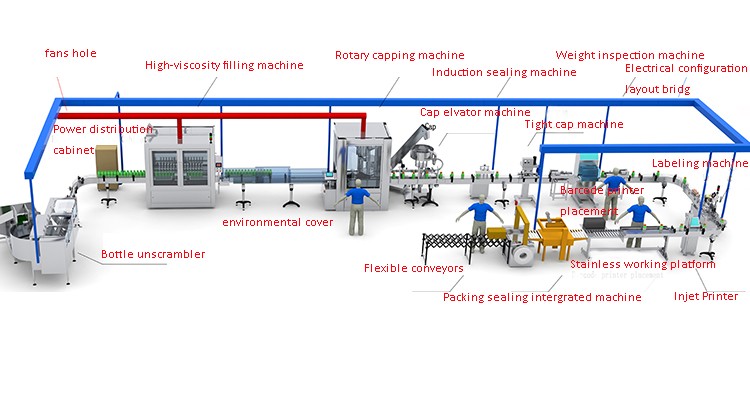 1. High-intellection filling line only one opera and three assistant workers can control the whole line.
2.The whole line is environmentally friendly, filling and capping multifuction area is using tne sealed exhaust manner and cooperate with duster to ensure the production site is no smelly.
3.Filling machine is equipped with automatic clean system, the convey belt is equipped with liquid collecting tank. electricity, gas configuration is using bridge style scientific configuration, ensure the production site is clean, so it can implement 5 s management easily.
4.The whole line is officient, the production capacity is 4000 b0ttles per hour, the filling precision is ±1mm, it equipped with detection system, to ensure the product qualified rate is 100%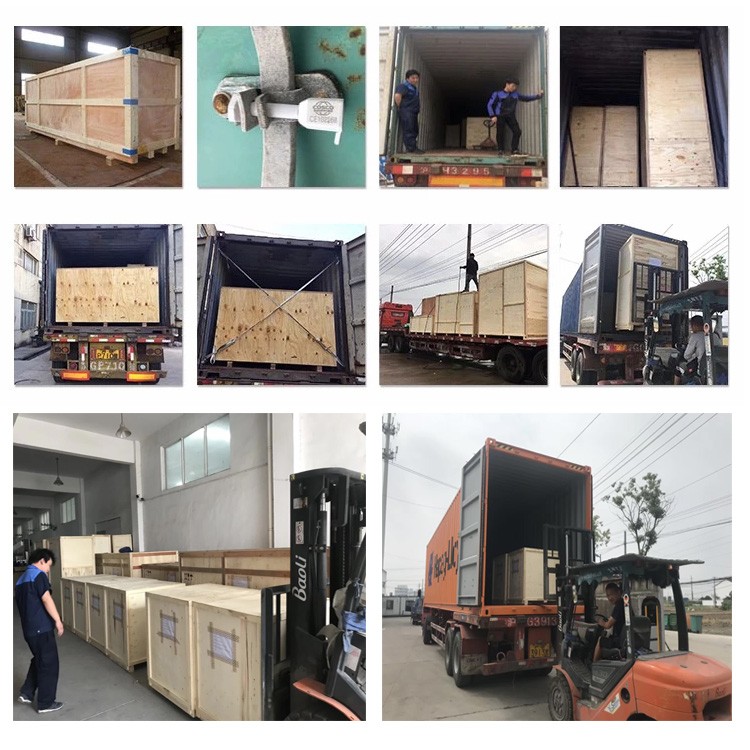 Installation and Debugging
-- We will send engineers to carry out installation and debugging of the equipment in buyer's place if requested.
-- The cost for International double ways air tickets, accommodations, food and transportations, medical shall be paid by Buyer for the engineers.
-- The normal debugging term is 3-7days, and the buyer should pay US$80/day per engineer.
-- If customer do not require above, then customer need to be train in our factory. Before installation, the customer need read the operation manual firstly. Meanwhile, we will offer an operation video to customer.
Training
-- We offer machines training system; the customer can choose training in our factory or in customer workshop. The normal training days are 1-2 days.
Warranty
-- The sold machine will be guarantee in one year.
-- In the guarantee year, any spare parts broken due to supplier's quality issue the spare parts will be supplied free for customer, customer need to pay the freight cost if the parcel weight more than 500gram.
-- The easy wearing out spare parts are not in the warranty terms, such as O rings, belts which will be supplied with the machine for one year using.